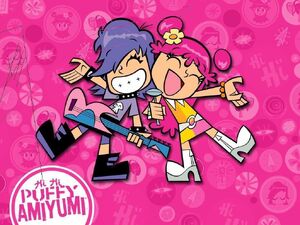 To start off
Edit
I know you all miss this show! Help bring it back! A YouTube user by the name Kaiju Fan made a petition to get Hi Hi Puffy AmiYumi back on Cartoon Network .
Reasons to sign
Edit
Julie - Not many of the Hi Hi Puffy AmiYumi Show fans got a chance to see the other episodes such as "Small Stuff", "Number Please", and "BC Road Trip" on TV. The popular episode, "Julie AmiYumi" left the series on a cliffhanger because Julie still had plans of revenge. It also would have been nice to know more about Julie and get a backstory about how the Ami and Yumi stole her stardom and/or why the audience didn't give her much credit back then.
Season 4 - There was supposed to be a fourth season of Hi Hi Puffy AmiYumi. The animation company "Renegade Animation" would like to work on it again.
For the Wiki - Seeing the episodes could help refresh everyone's memory for the wiki so they could add more to it.